About us
Our Mission:
CRIF helps organisations better understand cyber risks and the damage that might occur by supporting the development of effective insurance solutions.
We are a group of commercial and non-commercial organisations helping to enable purchasers of insurance to achieve effective management of residual risk.  We advocate that organisations demonstrate risk and security practices which will help facilitate their purchase of effective cyber liability insurance.
As part of this, the Cyber Risk & Insurance Forum (CRIF) is dedicated to raising the awareness of information assurance within the Cyber Insurance market and Risk Management community through the development of best practices.
Our vision includes:
·      Developing a risk-based framework of recommended information security practices and policies that are published
·      Encouraging a risk based culture, adequate business continuity plans and corporate information security policies within the industry
·      Raising awareness through events and briefings to the industry highlighting the risks of Cyber loss
·      Providing risk management and insurance professionals with tools to approach Cyber risks in partnership with their information security colleagues
---
For more information on our work or to find out how you can get involved please contact us here.
---
Officers and Personnel 

Chairman - Russell Price
Russell Price is the chairman of the Cyber Risk & Insurance Forum. He is a founding member of CRIF and has worked with an extensive range of stakeholders in the Cyber Risk and Insurance Sector.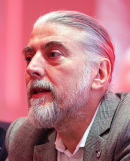 Russell also chairs the Continuity Forum Information Security Policy Group and is a member of a number of BSI and ISO Information Security Committees.  
He has heavily involved in the governments cross-sector work that led to Cyber Essentials and was central in developing the groundbreaking British Standard for Cyber Risk and Resilience [BS 31111:2018]  that is planned to be developed into an ISO Standard.  Much of his consulting work is focussed on helping organizations develop strategic understanding of the change being driven by technology and changes to markets and customer expectations.  
In addition, Russell is Chairman of the BSI Risk Management Committee [RM/1] and a leading member member of the ISO 262 Risk Management Committee Strategic Advisory Group [SAG].  He has recently been a key contributor to the new ISO standard on the Management of Legal Risk [ISO 31022] and now working on new internstional guidance addressing Emerging Risk [ISO 31050]
Russell is a subject matter expert in a number of emerging technology risk areas, with a particular interest in the Internet of Things, Autonomous Vehicles and AI.  He is regular speaker on Risk and Resilience issues in the UK and internationally.   
You can reach Russell by email on russell.price@continuityforum.org  or by phone on +44 208 993 1599.
---

 Secretariat - Sara McKenna
Sara McKenna is seconded to the Cyber Risk Insurance Forum by the Continuity Forum.  She is responsible for CRIF activities covering internal management and governance. She also works with members and other organizations on the development of our supporting activities. Sara has 14 years experience of the Security, Risk and Resilience sectors and extensive expertise in effective market transformation through engagement and education.
You can reach Sara by email on sara.mckenna@cyberriskinsuranceforum.com or by phone on +44 7788 562568.    
Website -Tom Ellis
Our Webmaster is Tom Ellis. Tom is seconded from the Continuity Forum as part of its Secretariat role. He has over 25 years of technology experience. Please contact him on tom.ellis@cyberriskinsuranceforum.com with any query or issue relating to our website. 
---