Cybercrime - its consequences & how to protect yourself
Price Waterhouse Cooper's (PWC) 2011 report into security breaches noted that 93% of large organisations and 76% of small business have had a security breach in 2011, this is up from 35% of companies overall in 2008.* PWC advised in their report that the average cost to a small business is £15,000 – £20,000 and between £110,000 – £250,000 for a large organisation.
In this White Paper the Oval Group shares its view on the cybercrime challenges facing organizations and how an integrated approach to security management can lever significant insurance protection.
---
---
You might also like ...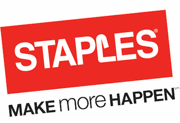 Reports are emerging of another credit card security breach this time concerning the Office supplies firm Staples.
They are the latest in a growing list of familiar retail names to have had their security breached.  The breach came to light following the detection of fraud patterns across the North Eastern United States.
A statement issued by the company has confirmed reports in a statement saying "Staples is in the process of investigating a potential issue involving credit card data and has contacted law enforcement."