Cybercrime - its consequences & how to protect yourself
Price Waterhouse Cooper's (PWC) 2011 report into security breaches noted that 93% of large organisations and 76% of small business have had a security breach in 2011, this is up from 35% of companies overall in 2008.* PWC advised in their report that the average cost to a small business is £15,000 – £20,000 and between £110,000 – £250,000 for a large organisation.
In this White Paper the Oval Group shares its view on the cybercrime challenges facing organizations and how an integrated approach to security management can lever significant insurance protection.
---
---
You might also like ...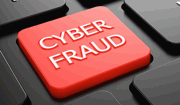 Financial cyber-crimes are becoming such a frequent feature in the media that one might be forgiven for feeling a little "cyber-fatigued."
However, the scale of the thefts from financial institutions, as reported by Kaspersky Labs recently, are arguably unique in their scale and audacity. Kaspersky describes hooded "money mules" waiting at ATMs, controlled remotely to dispense cash at a particular time without the need for a bank card.