Fortune Live | Video clip looking at the fallout from the Sony Cyber Breach
Interesting Video clip covering the consequences and fallout from the Sony Hack as featured on FortuneLive.

Robert Herjavec makes it clear that the cost and impact goes far beyond Sony and signposts the way to both major change in markets, particularly insurance. He predicts board level and government focus sharpening and that the frequency and severity is getting worse and worse.  
He goes on to point out that in his experience most companies can't show their insurers that they had good measures in place to protect themselves before a breach.  
[REQUIRES FLASH TO PLAY]
Robert adds that when it comes to more serious cyber breaches he thinks we are close to a major incident that will cause widespread disruption to national infrastructure and perhaps even cause loss of life.  
---
You might also like ...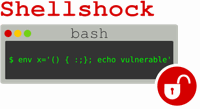 Research and Intelligence Report- IBM MSS Threat Research Group
IBM has published an intelligence report detailing their experience and insight following the reporting of a long standing vulnerability in the GNU Bash shell (widely used on Linux, Solaris and Mac OS systems).
This sparked the mobilization of attacks known as "shellshock" beginning in late September 2014. This is the IBM Analysis of the Shellshock Bug and how it was used.