Ponemon 2013 Cost of Data Breach study - higher costs & larger scale

Companies in this year's Poneman Institute 2013 Cost of Data Breach study shows UK companies reported that their data breaches were larger in scale and resulted in a higher rate of churn. Losses continued their rise this year by nearly 10%.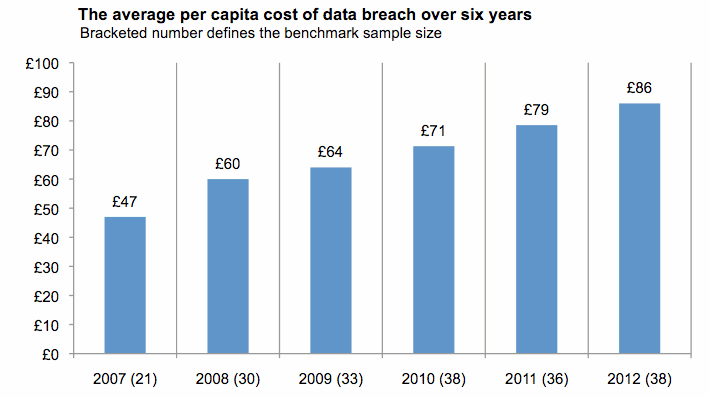 The Poneman research also concludes that companies can substantially reduce the cost of data breach by improving incident response planning, enhancing the company's security posture, establishing accountability (through the appointment of a CISO) and engaging consultants to assist during and after the data breach incident.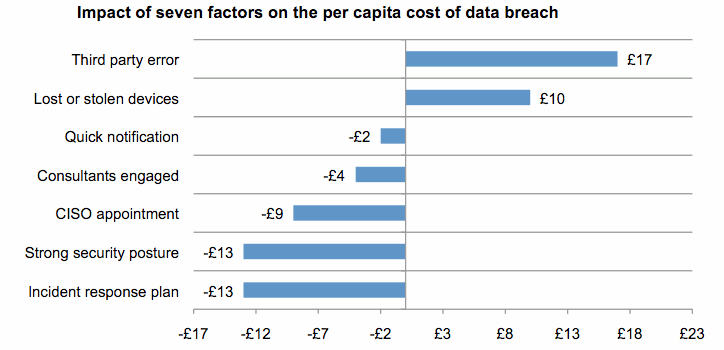 This study helps to demonstrate what the potential costs of a data breach could be based on certain characteristics and how best to allocate resources to the prevention, detection and resolution of a data breach. Specifically the study reveals the severe financial consequences from malicious or criminal acts. These data breaches can prove to be the most costly.
The chart below shows the cost on a per capita basis by industry sector.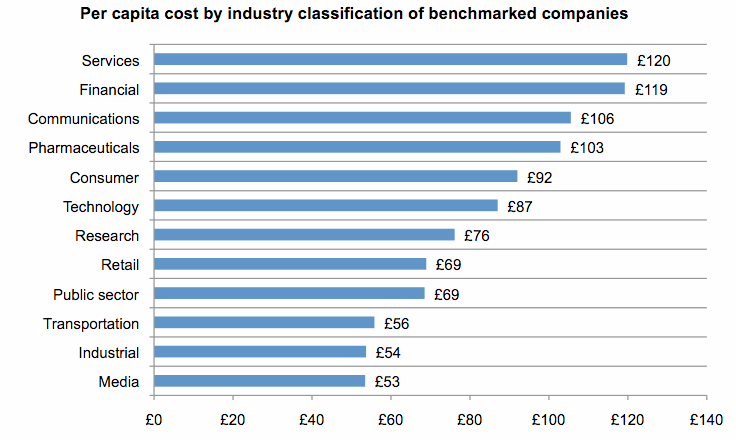 Results of this years study include the comparisons to those from previous years and it is important to note that each annual study involves a different sample of companies. as a result, the Poneman Institute are not tracking the same sample of companies over time, but attempt to recruit and match companies with similar characteristics such as the company's industry, headcount, geographic footprint and size of data breach to better reflect wider market trends and threats.
To read the full report please click below.
You might also like ...
What do HMV, Burger King and leader of the BNP Nick Griffin all have in common? They all show how the power of Social Media is a double edged sword and can bring more bad publicity than good.
HMV sacked the person responsible for Social Media Marketing, but failed to take control of the accounts she ran and change her passwords, she went on to post her personal thoughts on the management after being laid off. Burger King's twitter handle was hijacked and the rumours abounded that they had been acquired by McDonalds and Nick Griffin posted the address details of individuals who opposed his policies.