Staples are the latest in a long line of US retailers breached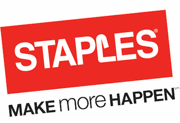 Reports are emerging of another credit card security breach this time concerning the Office supplies firm Staples.
They are the latest in a growing list of familiar retail names to have had their security breached.  The breach came to light following the detection of fraud patterns across the North Eastern United States.
A statement issued by the company has confirmed reports in a statement saying "Staples is in the process of investigating a potential issue involving credit card data and has contacted law enforcement."
The statement added "If Staples discovers an issue, it is important to note that customers are not responsible for any fraudulent activity on their credit cards that is reported on a timely basis."  
Security experts are predicting that this will be another case Point of Sale (PoS) Malware Attack that spreads through the PoS Network usually as the result of software update. 
This breach comes as firms are preparing to update their PoS systems to the EMV standard better known as "Chip and Pin" following
efforts by the White House
 to speed up the adoption of more secure systems across the US. 
Russell Price, Chairman of the CRIF GRS committee said "Magnetic Strip bank and credit cards are 80's technology and should have been retired years ago. Chip and Pin was introduced 10 years ago and can offer higher levels of protection when well implemented.  It comes as no surprise that criminals want to cash in ahead of the shift to EMV cards"
This latest breach will add to the estimated 100 million affected by cyber breaches across the US in the past 12 months.  
You might also like ...
Cybercrime is the most prevalent form of criminal activity now surpassing the global drugs trade. "In the face of real threats to our [USA] security and our economy" President Obama has recently signed a Cybersecurity Order pledging US$ 4.7 Bn to secure the virtual defences of the USA.
However, it is not just nation states that face this emerging threat, individuals and organisations also have a real and present exposure, and we are not just talking about those businesses that process credit card information either.